TA Orientation
The TA Orientation "Preparation to TA in Spring Quarter will be held on February 25, 2022 (space is limited). 
All TAs who have not yet attended the UC Davis TA Orientation are required to do so by the University of California Office of the President and UC Davis Graduate Studies, even if they have taught previously. This orientation is different and in addition to your department orientation. The goal of this requirement is to help graduate students develop as instructors and effectively teach our undergraduates. 
TA Orientation is designed to help graduate students succeed in their role as TAs at UC Davis by introducing them to the principles and practices of effective teaching. In-person sessions emphasize practical teaching skills and strategies, and include topics such as establishing a positive classroom atmosphere on the first day, leading effective discussions, presenting information clearly, and grading efficiently. Pre-registration is required. 
 
Students planning to TA in the Winter Quarter, may now register for our next TA Orientation session taking place on February 25, 8:45 am - 12:00 pm. The make-up session will be held over Zoom. Registration will open early February 2022.


The TA's Guide to Effective Teaching at UC Davis - download PDF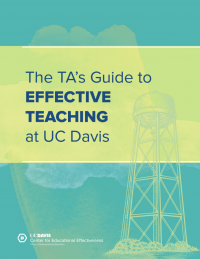 Contact
If you have additional questions, please scroll to our FAQ's below. Still can't find an answer to your question? Email us at TAOrientation@ucdavis.edu.