TA Orientation 
All TAs who have not yet attended the UC Davis TA Orientation are required to do so by the University of California Office of the President and UC Davis Graduate Studies, even if they have taught previously. This orientation is different and in addition to your department orientation. The goal of this requirement is to help graduate students develop as instructors and effectively teach our undergraduates. 
TA Orientation is designed to help graduate students succeed in their role as TAs at UC Davis by introducing them to the principles and practices of effective teaching. In-person sessions emphasize practical teaching skills and strategies, and include topics such as establishing a positive classroom atmosphere on the first day, leading effective discussions, presenting information clearly, and grading efficiently. In order to fulfill the TA Orientation requirement, you must attend all in-person workshops you are assigned to. You must also complete self-paced modules on UC Davis's learning management system, Canvas, before attending your assigned session. The modules will take approximately 1.5 hours to complete and must be done before attending your assigned in-person session. Here is your link to the course.
Check in will begin 30 minutes before the start of the orientation in the Teaching and Learning Complex lobby (view on map). We encourage you to arrive early to allow sufficient time to check in before the first session begin.

Registration is now open for:
TA Orientation - Preparation to TA in Winter Quarter
Dec. 11, 2023 @ 8:45 AM - NOON
---

The TA's Guide to Effective Teaching at UC Davis - download PDF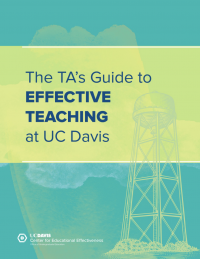 Contact
If you have additional questions, please scroll to our FAQ's below. Still can't find an answer to your question? Email us at TAOrientation@ucdavis.edu.